Camp Sojourner 2021 Information
Overview
Due to continued risk of COVID-19 as of March 2021, we will not be hosting our one-week overnight camp this summer. Instead, we are hosting two weeks of day camp with one (optional) overnight tent camping trip for each age group. Please email us with any questions: info@girlsleadershipcamp.org.
Dates and Key Information
-July 19 to July 29, Monday through Thurs for two weeks, 8:30am-4:00pm (plus an overnight.)
-8:30-10:15am: Mornings at the Woodlands (4000 Woodland Ave ~ Phila PA 19104) for camp traditions, creative arts, leadership skills.
-10:30am-4:00pm: Mid morning to mid-afternoon various trips including parks for lakes and hiking, college tours, service/justice projects, beach. Leadership skills to be carried through all activities. Pick-up back at the Woodlands.
-One overnight for each age group, tent camping at location 50 mins outside of Philadelphia.
-Snacks included but we ask you to pack lunch.
Draft Daily Schedules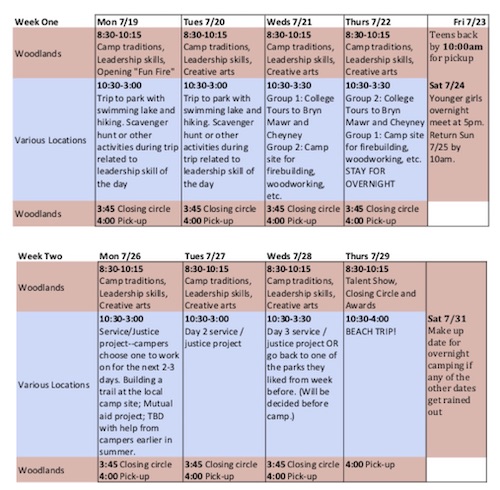 Cost
-As always, sliding scale, we never want finances to keep anyone from coming to camp!
– Sliding scale will remain the same as in years past: $350-$1200. All campership requests for amounts below $350 will be honored, as always–we know especially this year, some families have had an awful year. We do not believe in money as the basis for membership at Camp Sojourner. We are happy to work with you at whatever rate is affordable for you.
-It will cost us about $1,000 per camper to pay for the costs of camp the way we have mapped it out for this year.  We will fundraise to make sure camp is possible for everyone, and we know that some families pay at the top of the scale when they can, to help cover costs for other families.
COVID Safety
We will use similar protocols to last year unless otherwise recommended by CDC and American Camp Association. Detailed Covid safety plans and contract will be part of camp application.
Generally, we ask families to monitor symptoms of camper and people in household. DO NOT COME TO CAMP if anyone in household is experiencing symptoms or has been exposed to someone who has tested positive. Get tested immediately and keep us informed.
At the Woodlands: Temperature checks as campers arrive. Social distanced (6-8 feet) activities managed with use of markers and equipment. Mask wearing during any transition times when 6-8 feet distance cannot be maintained. Personal supply bags for each camper so that no two people touch the same objects during activities. Staggered use bathrooms with cleaning after each use.
Vehicles: Everyone wearing masks and windows down. Sit in same seats each time car used. Vehicles cleaned and disinfected daily.
Camping: There will be exposure to one other camper in tent, unless a camper would prefer to sleep alone. Otherwise, we will maintain physical distancing and mask wearing when 6 feet distance cannot be maintained outdoor.
Swimming: Maintain 6 feet apart from non-household members when not wearing masks–in the water we would not expect campers to wear masks. People who cannot maintain distance will be asked to sit out on their towels, appropriately distanced.
Registration Timeline / Procedure
-Registration website (Ultracamp) will go live on April 1. Here is link to our online registration system.
–Returning families will have until April 18, to reserve a spot by completing online registration, paying deposit, and completing all paper forms (Health form, Returning camper letter, COVID expectations and waiver form) .
-After April 18, any new campers who have registered will be offered a spot or placed on the waitlist, depending on whether there is space available in their age group. If offered a spot, new camper family will be asked to attend an interview with Camp Sojourner staff and complete Health form, New camper letter, COVID expectations and waiver form. (Interviews can be on Zoom or outdoors in-person, depending on availability and preference of family and staff members.)
Photos of Day Camp at Woodlands and Overnight Tent Camping Site