Program
We offer girls activities throughout the year, including our summer program, Camp Sojourner, and monthly trips to local destinations to enjoy nature hikes, college tours, creative arts, and service projects. We also offer our weekly Teen Leadership Institute for returning teen campers.
Camp Sojourner
Camp Sojourner is an overnight camp for girls ages 8-16, with 17-18 year old girls working as junior counselors. Our camp program focuses on team building, leadership development, self-expression through creative arts, and appreciation of nature.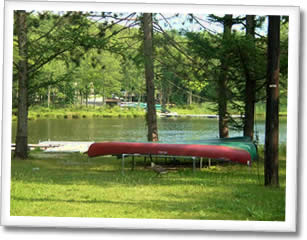 Our summer program is located in the Pocono Mountains at the New Jersey School of Conservation, about two and a half hours away from Philadelphia. Buses take girls up to the camp at the beginning of the session and bring them home at the end of the session.
Activities at camp include: swimming, boating, hiking, team-building, campfires, archery, climbing wall and creative arts such as singing, dancing, drawing, painting, drumming, acting, sewing, photography, and woodworking. We eat family style in a large dining hall, and sleep in modern wood cabins.
Year-Round Activities
We take monthly trips with campers of all ages, to local parks and farms, colleges and universities. This year we have formed a partnership with Bartram's Garden in Southwest Philadelphia, and are working with the Urban Nutrition Initiative to help build a community garden and farm, and learn about the environmental impact of growing our own food. Places we have gone in the past include LinVilla Orchards, Merrymead Farm, Tinicum Animal Refuge, Schuylkill Environmental Center, Temple University, and the University of Pennsylvania.
Beyond monthly trips, we offer creative arts throughout the year as available, including step, drumming, singing, visual arts, and yoga.
Teen Leadership Institute
We believe that in order for young people to grow as leaders, they must be given authentic opportunities to act as leaders.
That is why GLC includes youth as a core part of our Advisory Board, and gives teen leaders the opportunity to participate in decision-making and planning camp activities. Our Teen Leadership Institute meets once a week after school and works together with Camp Sojourner staff to plan activities and projects for the rest of our camp community, while developing leadership skills such as public speaking, facilitation, and goal setting.
Service
We believe that being a leader means both taking charge of your own life and working to make the world a better place. Each year our campers choose an area of focus and complete service projects related to those areas. This year, we are working with Bartram's Garden and the Urban Nutrition Initiative to to help build a new community garden and farm while learning about the environmental impact of growing our own food.  In past years, we have worked in partnership with Women Organized Against Rape (WOAR) and the Clean Air Council of Philadelphia.